So it's time for another Top Ten Tuesday. I haven't done one for a few weeks, and this one definitely stirred something, so enjoy! In no particular order, as always:
1. Will Herondale from The Infernal Devices by Cassandra Clare
He can recite quotes and lines from books by heart and likes reading. Will is just awesome in all ways, don't we all agree?
2. Tessa Gray from The Infernal Devices by Cassandra Clare
Is it a coincidence both of them like each other?
3. Jess Brightwell from Ink and Bone by Rachel Caine
Jess is training to be a scholar and he must protect books. But in a world where personal possession of books is illegal, Jess "has ink in his bones" and can't stop himself from reading. I don't actually know who could play Jess, but this guy seems a close guess. (Haha, that rhymed 🙂 )
4. Hermione Granger from Harry Potter by J.K.Rowling
I don't know if Hermione actually reads YA or something like that, but she's definitely at the top of the class. Textbook reading counts, right?
5. Cath Avery from Fangirl by Rainbow Rowell
She writes fanfiction of a story very similar to Harry Potter. If she isn't a book nerd, I don't know who is.
6. Katy Swartz from Obsidian by Jennifer L. Armentrout
Katy is a book blogger, and so are we! Yep, let's just post the cover picture as Katy, because. how. convenient. Seriously, some book covers, though.
7. Matilda Wormwood from Matilda by Roald Dahl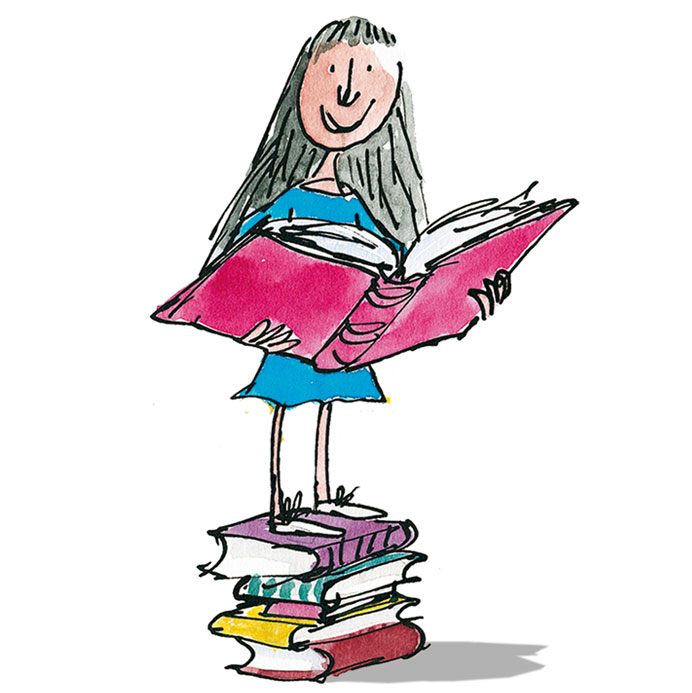 Along with Hermione, you just know this was bound to happen. Just look at the cover if you don't believe me. This book is about a girl who starts reading at a very young age. And she can move things without touching them! Telekinesis at work is pretty amazing, I tell you.
8. Annabeth Chase from Percy Jackson and the Olympians by Rick Riordan
I remembered this one when I looked at Alina's post over at Radiant Reads. I'd forgotten that the daughter of Athena would obviously be a book nerd, and she is!
I'm going to leave this at 8, because I can't think of any more and I'm pretty sure all of these are already mentioned by every single blogger, but there you go 🙂  Are there any more guy book lovers? Because I think the male population here is pretty low!